Over the last year, many of us have been forced to work from home, which is a great thing, but it has its costs too! If you share your home with a dog or a cat, or any other animal companion, then the last thing you want is to get interrupted by your needy pet while in a conference with your boss via Zoom. Well, want it or not, this comical scenario happened so many times, because our beloved furry companions always seek for attention.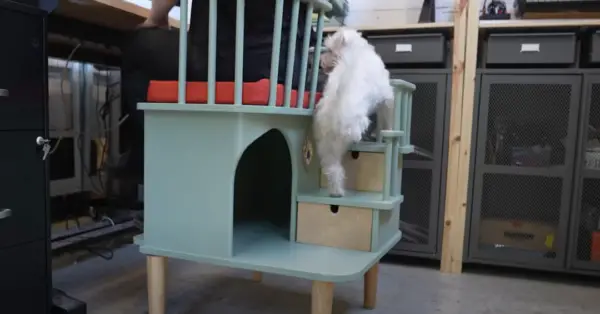 For Simone Giertz – a Swedish YouTuber and inventor, it happened so many times to get innocent interruptions from her cute little pup, she seriously thought to to something about it. So to have it both ways, the woman created a desk chair which allows her to work uninterruptedly, bot it also allows her four-legged friend cu curl around her just as he loves.
"My dog would really prefer it if I turned myself into a dog bed," Giertz explained. "Since I'm not too keen on that project, I built her a chair instead."
I built a chair for needy pets that always want to sit next to you. pic.twitter.com/loTmxmsnQ5

— Simone Giertz (@SimoneGiertz) March 30, 2021
After building it, the woman decided to share her work on Twitter. "I built a chair for needy pets that always want to sit next to you," she wrote. And she soon found out her invention is every pet owner's dream came true as her tweet started to get flooded by numerous pictures of poor owner trying to work while their little companions were seeking for so much wanted attention.
Our current solution isn't working great pic.twitter.com/LV4sEftim4

— Zach "Walz Sucks" Wolf (@zachwoIf) March 30, 2021
Brilliant as this is, it does not work for one of these pic.twitter.com/oluC3UOzQx

— Spyro Markesinis (@elzinetti) March 30, 2021
I need one for this girl, who is currently interrupting my sewing AGAIN. pic.twitter.com/uX2adZYZ9f

— if you got me you got me (@cherryberrybaum) March 30, 2021
In a YouTube video, the woman also explained in details the building process and what inspired her to create the desk chair. Take a look at it: