In today's world, it's nearly ubiquitous for individuals to possess a cellphone in their pocket. One of the benefits of this is that you can capture photos at any moment when you come across something captivating, and sometimes the resulting images can be even more intriguing or comical than you had anticipated.
A father's photograph of his daughter perfectly exemplifies this phenomenon. Although he had merely intended to take a pleasant snapshot of his child, he ended up with something far more remarkable. Undoubtedly, this is one of the most impressive pictures we've encountered in quite some time!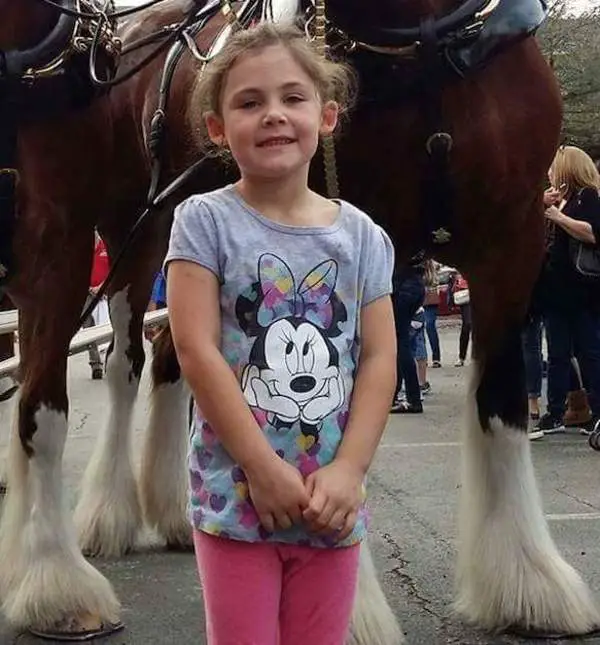 When this young girl paused to pose for a picture in front of a group of horses on the street, she had no inkling that she would quickly become an international sensation.
As reported by Time magazine, the photograph was initially shared by a user on the website Reddit. While there isn't much additional information to be found, it's not difficult to envision how the snapshot transpired. It's reasonable to surmise that this little girl and her family had a delightful day, perhaps attending a parade where they happened upon a group of majestic Clydesdale horses.
Perhaps the young girl summoned the courage to approach the horses and even gave them a gentle pet. It's possible that her father or another relative then requested her to face the camera for a photograph.
As she stood in front of the regal horses, the photographer instructed her to smile and say, "cheese," resulting in a truly comical snapshot.
According to Time magazine, the uproarious photo first surfaced on Reddit in 2016 through an account that has since been deleted. It's uncertain whether this was the photograph's inaugural online appearance or if it initially emerged from The Wolf 101.5 FM. Regardless, it's difficult not to adore this amusing photobomb.