This story is definitely meant to warm our hearts on this cold month. Earlier this week, the Goddard Police Department in Kansas received several calls about a camel, a cow and a donkey wandering together on the streets of the city. And what initially seemed to be like a corny joke, or more like a Disney tale, turned out to be as real as breathing for the authorities when they got there.  The unlikely trio turned a lot of heads, but they didn't seemed to be bothered at all!
"Does anyone know the owners of these three friends traveling together (towards a Northern star) just East of Goddard?" the police department wrote in a Facebook post. "If we can not locate the owner, we may be halfway towards a live nativity this Christmas season."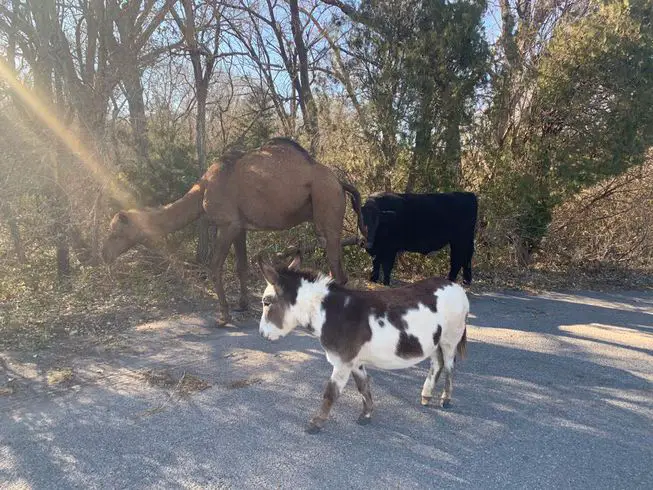 According to officer Aja Fulcher, the trio was found outside the city of Goddard, in a suburb area of Wichita. The cops initially thought the animals belonged to the Tanganyika Wildlife Park, a local zoo. However, they proved they were wrong, so the trio was taken to a local shelter, but not before to take a photo of them. And what little the officers know, was the snap went viral on social media with lots of people reacting to the hilarious post.
"Let them keep walking and follow them. Who knows, they may lead you to the second coming. ITS A CHRISTMAS MIRACLE,"one user wrote. While another one added: "If all humans could just get along like most animals do."
However, this isn't the first time when an unlikely animal trio is making waves on social media. A year ago, a dog run away from home, only for its owners to find out he was wondering through the neighborhood with another dog and a goat. Eventually, the pup returned home with his new friends. Watch them in the video bellow:
h/t: Facebook