The devastating bushfire in Australia is destroying everything on its way. So far hundreds of homes have been destroyed and thousands of people evacuated. However, the koalas population are by far, the most affected by the nature's furry. The International Fund for Animal Welfare in Australia estimates  more than 350 koalas have perished due to recent bushfires.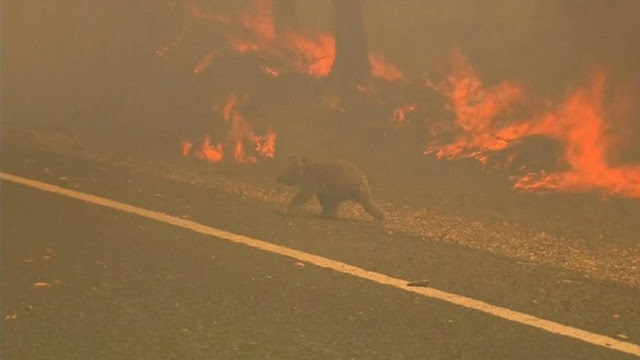 Hundreds of firefighters are teaming their efforts with local volunteers to help those innocent creatures from the wrath of nature. Special dogs that can smell koalas fur have been deployed in the fire areas. And in all that hazard, the cameras managed to capture a heartwarming moment.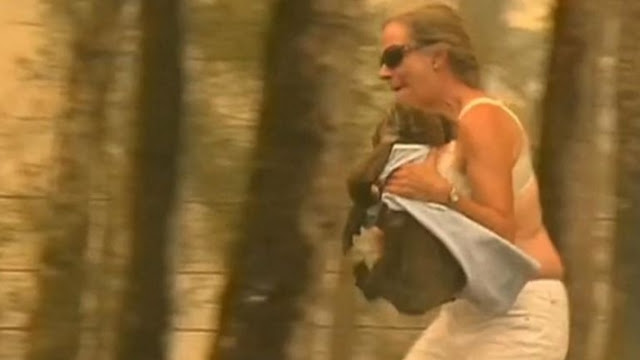 A dramatic footage shows a local woman, named Toni, running through the flames to save a helpless koala. The brave woman risks her life for the seek of this poor creature. You can see how he's taking off her shirt to wrap up the koala bear, after she spread some water on its coat. Then she rushed to the Port Macquarie Koala Hospital with the badly wounded animal.
The koalas are native to Australia and they're living in the eucalyptus forests (their main food source) along the coasts. The adorable creatures who could live up to 20 years are famous for their sleepy nature; they usually sleep around 18 hour at day. According to the Australian Koala Foundation, there are around 45,000 koala left in the wild. The species has been named "vulnerable" by the International Union for Conservation of Nature.
More than 300 homes and around 2,5 million acres of land have been destroyed by the bushfires in Australia, this year.
A woman rescued a badly burnt and wailing koala from an Australian bushfire on Tuesday.

The koala was spotted crossing a road amongst the flames near Long Flat in New South Wales, on the eastern side of Australia. pic.twitter.com/fStGSAzwkD

— NBC News (@NBCNews) November 19, 2019
Source: CBS News