It is undeniably devastating that someone would choose to abandon a dog. Numerous distressing accounts have emerged, depicting dogs discovered in appalling conditions, having been left to fend for themselves and facing near-death experiences.
However, amidst these heart-wrenching stories, there are also compassionate individuals who are willing to offer these dogs a second chance and the affection they truly deserve. Presently, one such dog is about to embark on a profoundly joyous journey, merely a week after being discovered emaciated and forsaken.
On June 2, in Grand Rapids, Michigan, a dog named Hope was found lying on the road. Witnesses observed as the weary dog emerged from the nearby woods, only to collapse in the middle of a bustling street, completely depleted of energy and unable to traverse the road.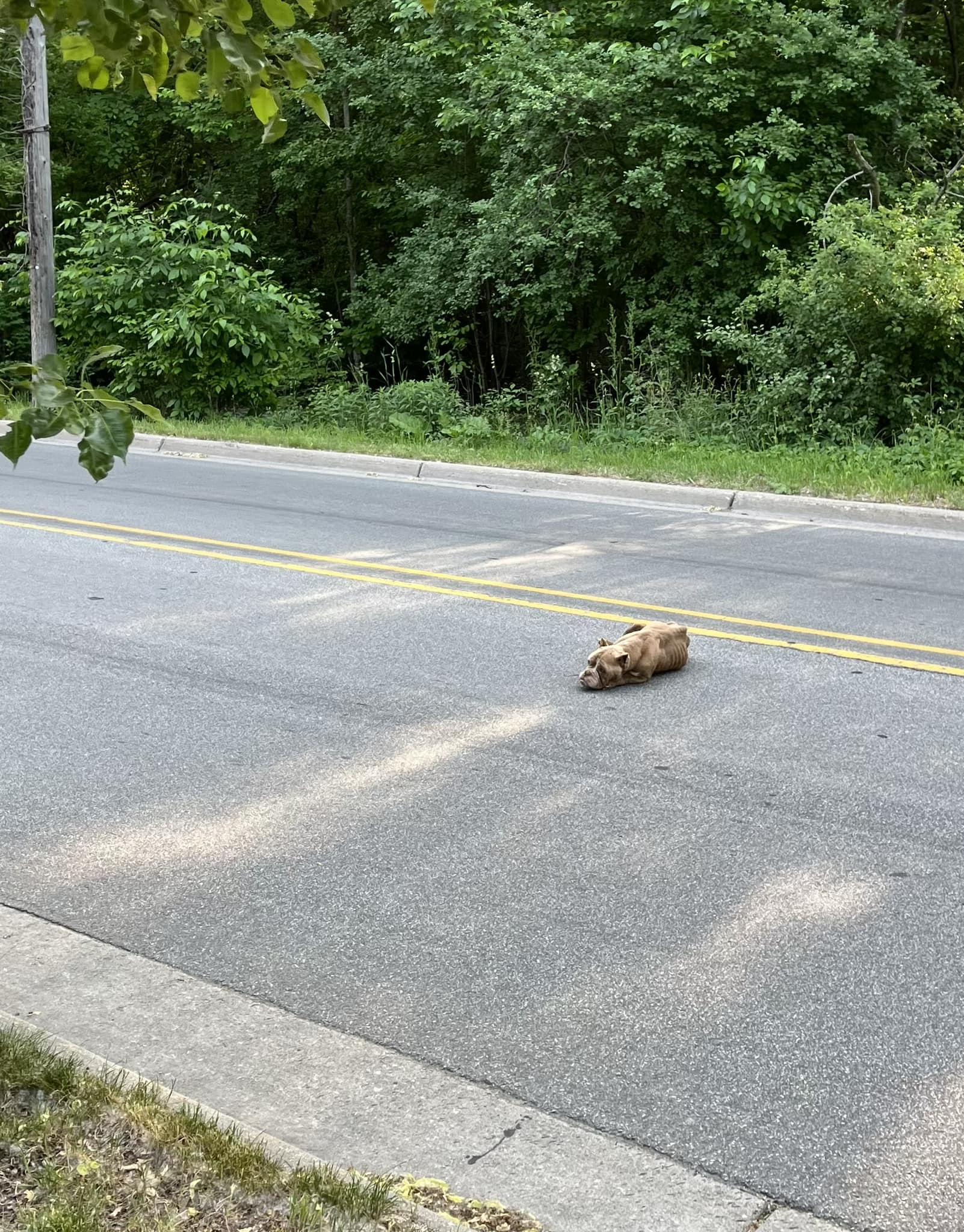 As per a Facebook post, concerned neighbors took swift action by halting traffic and ensuring the dog's safety, guiding her to the sidewalk. The dog was severely malnourished and emaciated, prompting them to offer her some nourishment. When the police arrived, they expressed doubts about the dog's survival. However, a compassionate neighbor named Rachel emerged as a guardian angel, stepping forward to assume responsibility for the dog named Hope. Rachel promptly took Hope to Cascade Animal Hospital, vowing to save her life regardless of the cost. The veterinarians at the hospital determined that Hope had a fighting chance and provided some insights into her distressing past. They surmised that she had likely been exploited as a breeding dog, having endured multiple litters before her owners callously abandoned her once she was deemed useless. Regrettably, Hope lacked a microchip, and her approximate age was estimated to be around 7 years.
To keep concerned individuals informed, a Facebook group called "Hope for Hope" was established to provide regular updates on the dog's progress. Hope underwent various tests and treatments at the emergency room, where her vital signs remained stable, and her condition displayed signs of improvement.
In an update shared on June 4, the hospital expressed astonishment at Hope's remarkable progress, as she continued to exhibit signs of resilience despite her weakness. Surrounded by love and diligent care, she steadily regained her strength.
In the subsequent days, Hope's recovery advanced significantly, with her health and spirits steadily improving. The anticipation heightened as the Facebook group eagerly awaited the latest update, and yesterday, they joyfully announced the most uplifting news to date: Hope had made a remarkable recovery, reaching a state of well-being that allowed her to bid farewell to the hospital and embark on her journey to a new home.
"Tonight's news is THE BEST Hope news yet," the Facebook post reads. "Her lab work proved stable enough to allow her to go home this evening with her new family! A home where she will sleep inside on a soft bed, feel infinite love, and never go hungry again."
In a heartwarming turn of events, Rachel, the compassionate neighbor who initially came to Hope's rescue, stepped forward once again to adopt her. Hope found her forever home with Rachel, marking the beginning of a new chapter in her life. The transition was met with incredible warmth and happiness, as Hope experienced a "perfect first night and day" in her new abode. She slumbered peacefully in her cozy bed and began acquainting herself with the other pets in the household, fostering an atmosphere of love and acceptance!