While wandering through a forest near Hot Springs, Arkansas, a kind-hearted passerby stumbled upon a stray dog, its body covered in ticks and showing signs of malnourishment. Noticing the dog's timid nature, the person quickly reached out to Hank's Rescue for assistance. Liz John, the founder of Hank's Rescue, approached the skittish canine, hoping to offer it a new lease on life.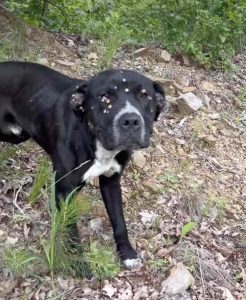 In the heartwarming rescue video, the dog, although initially hesitant, eventually lowers his head in a friendly manner. Drawn by Liz's gentle calls, he slowly approaches her. As this touching scene unfolds, Liz's husband, Nick, can be overheard in the background, conversing with the kind-hearted stranger. With evident gratitude, the Good Samaritan tells the couple, "God bless you for what you're doing here."
Fortunately, the dog, later christened "Loagie," willingly approaches their car and even allows them to help him in. On a closer look, it's alarming to see his face infested with swollen ticks!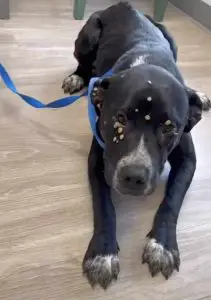 Upon their urgent visit to the vet, it was discovered that Loagie had contracted a disease from the ticks. Thankfully, the ailment was curable. After a thorough tick removal and a soothing bath, Loagie started to relish his new indoor life. It didn't take long for him to hop onto the couch and snuggle up with Nick.
Loagie wasn't too keen on leashes initially, but he's gradually warming up to them. After being rescued in June, by summer's end, he found his forever home. Hank's Rescue posted an update on Facebook saying, "Loagie is truly living his best life! He and his fur-sister are now two peas in a pod. While his mom's at work, he lounges by his granny's pool. His mom even ordered a playhouse for him and plans to inscribe his name on his room's wall… Talk about being SPOILED! But he's worth every bit of love and more."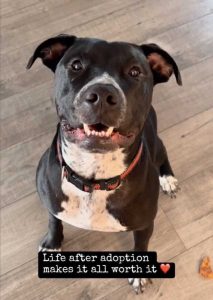 Loagie also comes and stays over for visits with Liz and Nick too and he looks fantastic!