Dogs truly demonstrate their intelligence and sociability, forming genuine and loving connections with fellow canines. These bonds are particularly significant among shelter dogs. Recently, an inspiring tale unfolded when one shelter dog showcased unwavering loyalty to her closest friend, leading to a heartwarming outcome for both.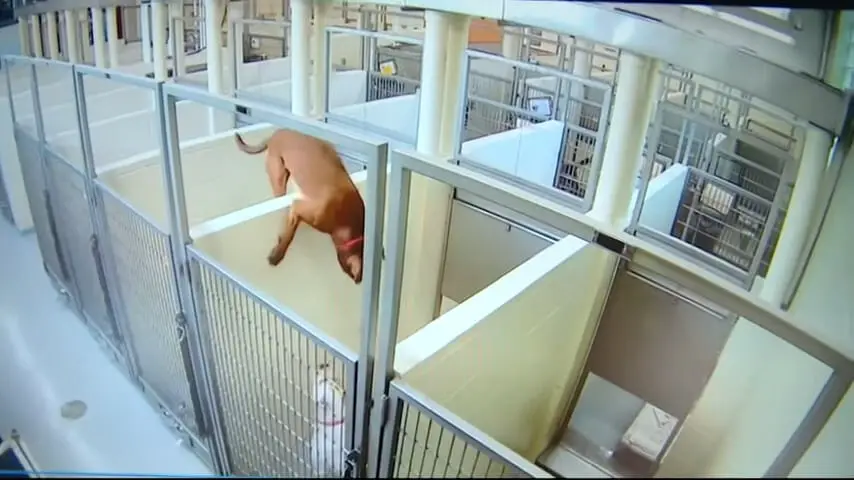 According to a heartwarming Facebook post, two stray dogs named Linda and Brenda were discovered together and taken to Minneapolis Animal Care & Control. From the start, they proved to be inseparable best friends. Though placed in neighboring kennels, the distance between them was too much to bear. One night, Brenda made a daring leap over the concrete divider to keep Linda company during the night. This touching scene was captured on video and quickly went viral, with the Mission: Impossible theme music adding to its charm.
This is Brenda and Linda. They were brought into the shelter together, and Brenda had zero interest in being separated from her best friend. She jumped the kennel wall to get to Linda, and made sure everyone knew they were a package deal. pic.twitter.com/mqvAfYmpBB

— WeRateDogs (@dog_rates) June 7, 2023
As the video gained immense popularity, the shelter decided to put both dogs up for adoption, knowing how deeply connected they were. They sought a forever home that could accommodate both as a devoted duo.
Meanwhile, the dogs were moved to a larger kennel to enjoy more space together. Perhaps thanks to the video's viral fame, these affectionate dogs eventually found their well-deserved happy ending. Friends of Minneapolis Animal Care & Control confirmed the heartwarming news that Brenda and Linda were adopted together.
The shelter expressed their gratitude to all who shared the story and reached out, acknowledging the overwhelming support they received over the past few days. This touching tale reminds us of the incredible friendships that dogs can forge and the power of viral storytelling to bring about positive change in the lives of these lovable animals.
The best news… it worked: They were adopted together yesterday. 14/10 for both (h/t Friends of MACC) pic.twitter.com/3fr4z0DG5H

— WeRateDogs (@dog_rates) June 7, 2023
Such a heartwarming happy-ending story!!!