Interspecies relationships are not just about battling for survival. At times animals form the most unusual bonds, proving that love and friendship know no boundaries. Even so, when it comes to unlikely relationships the animal kingdom never cease to amaze. Speaking of it, Herman and Lundy is definitely a very unusual, yet extremely adorable duo!
Herman is a rescue pigeon that can't fly and Lundy is a 10-week-old chihuahua who can't walk, and their special relationship won everyone's hearts. The two adorable creatures met at the The Mia Foundation – a non-profit in Rochester, New York, which rehabilitates animals with birth defects.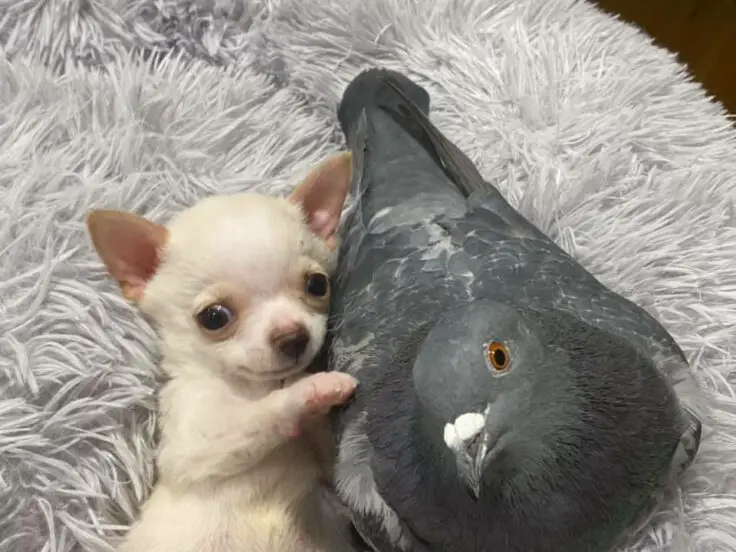 Herman is a resident at the rescue center for over a year. Back then, the little one was found in car park, unable to fly or move. The wildlife rescuers said at the time he would stand a chance of survival, but Sue Rogers – the founder of The Mia Foundation, knew Herman would beat the odds. Unfortunately, he won't be able to fly again, but that that doesn't stop the tiny creature to be such an adorable presence and the center, where he'd be a permanent resident.
Lundy on the other hand, was just 4-week-old when a breeder in South Carolina decided he's useless, given his special needs, so the poor little soul ended up in shelter. Thankfully, he arrived at Sue's foundation and here he found all the love and comfort he needed. And more than that, a special friend.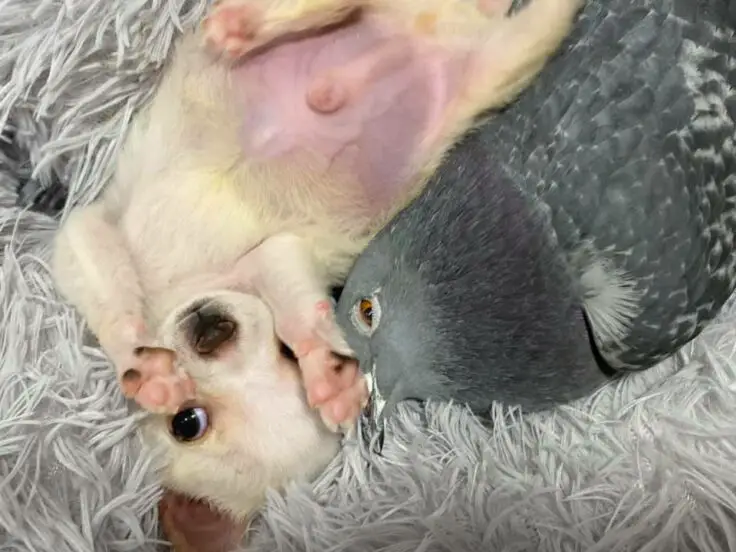 When the two have first met it was love at first sight and Sue knew they would become best friends. "I took Herman out of his playpen to give him some time out and I put him in a dog bed," Sue told WHEC TV. "Then I had to tend to Lundy so I put Lundy in the same dog bed next to him."
And since that moment, Herman and Lundy are inseparable and the special bond they share took the internet by storm, after Sue took some snaps of them together. "They just looked really cute together so I took some pictures," she said. " [I] posted them to Facebook and the next morning it was crazy."
Sue's post went absolutely viral with millions of people being absorbed by the adorable duo. More that, thanks to the popularity Herman and Lundy enjoyed a lot of kind-hearted people made donations for the rescue center.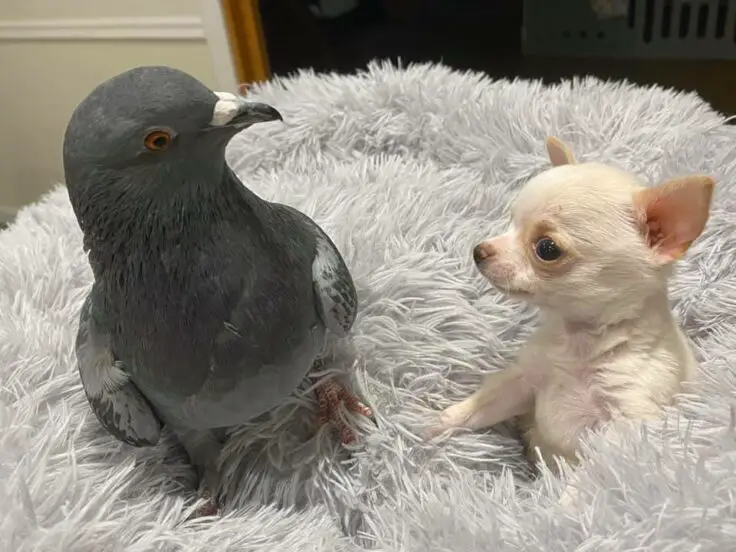 "Just from a simple picture of a pigeon and a puppy being shared, we've already brought in over $6,000 in donations," Sue said. " think the world needs good stories and when you have two species that basically fall in love, it can only touch hearts."