With temperatures over 86°F, Lake Tahoe was assaulted over the weekend by lots of people decided to cool off. But on Sunday, some of them got a very unexpected surprise: a mother black bear and her three young cubs, decided to to join them. It sounds really crazy, I know, and some of the swimmers couldn't believe their eyes. Yet, considering their thick furry coat it is pretty easy to understand the reason behind their decision.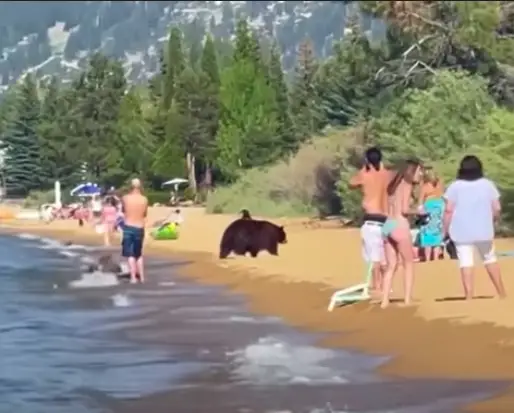 Just like everybody else, the family of bears decided to take their day off and have fun at the beach as they have been seen taking dips multiple times during that day. One of the beachgoers – Jen Watkins initially spotted the bears at the Pope Beach. She even captured the moment on camera. The four-legged visitor have been seen casually walking on the beach without being bothered by the large number of people. They had a small incident with a dog, though.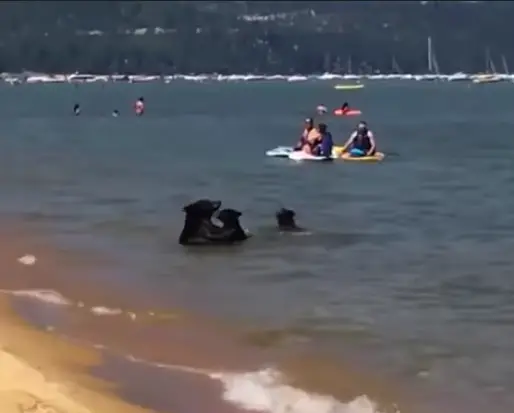 "We were all a little shocked," Jen told KCRA News."I guess (the bear) had been out earlier… It had gotten a little bit unfriendly, protective of the cubs with a golden retriever."
Black bear sights are very common on the beaches of Lake Tahoe, even during the summer days when the lake is pretty crowded. But judging by the large bear population that live in California – 25,000 to 35,000 individual – it might be a common sight.
You can watch the incredible scenes, bellow:
Even though this time, no one was harmed and the bears family peacefully walked away when they got tired of swimming, wildlife officials warn people to stay vigilant when around wild animals, because they can be extremely dangerous.
"Don't feed them, don't entice them, don't provoke them and obviously in a setting like this," Lieutenant Nelson Resendes with the Placer County Sheriff's Office said. "Don't approach them and most important respect their space."
Last year, another mother bear, with only two cubs that time, have been filmed cooling off in Lake Tahoe. The moment went viral. You can watch it bellow!