This is the heartwarming moment a Good Samaritan put his life on the line, to save a stray dog from certain fate. The poor pup found himself in big problems, after falling into an icy pond. Thankfully, this hero rushed to take him out, without a second thought and saved the day
Apparently the black and white homeless pup was running after some duck over the frozen pond, when at some point the ice cracked and he fell into the extremely cold water. Panicked and very confused, the poor dog was desperately trying to get out, but the things were tougher that he ever expected.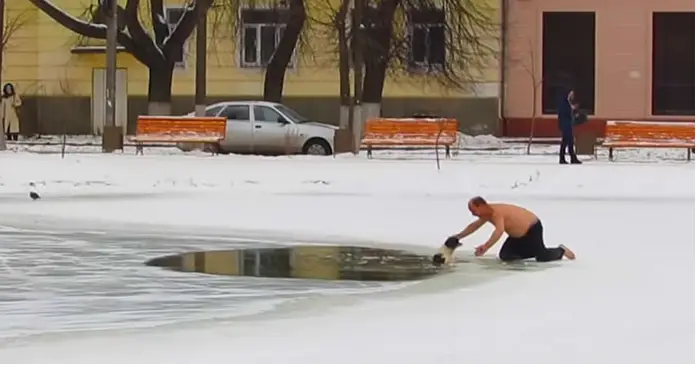 The scene unfolded in a neighorhood in Russia and even though a lot of people were passing by, none of them done anything to save the poor dog, until one brave man rushed to rescue him. The big hearted man was wearing no shirt nor shoes and he run straight to the struggling dog, kneeled and grabbed the pup. However, it turned out to a difficult rescue as the animal seemed stuck in something.
To make things even worst, soon as the man approached him, the dog got scared, without knowing what his real intentions actually are, and even bite him. But the man, cautiously approached him and eventually grabbed him and safely took him out.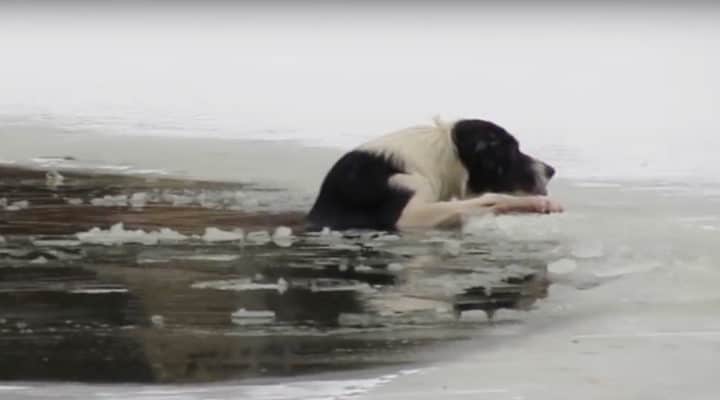 Thanks to this brave man, the poor dog was finally rescued and he immediately run away – a sign he was unharmed. Our hero got himself a tiny bite, though, but he will be fine as well.
Watch the dramatic rescue bellow!