Alan Whitton, a 49-year-old man from Woodford Green, Redbridge, was overcome with emotion when his missing dog, Mitzi, was rescued from a foxhole after several difficult days of searching. Mitzi, a Jack Russell, joined Alan's family last year following the passing of their previous dog, Tinker.
Tragically, on the one-year anniversary of Mitzi joining the family, she went missing during her morning walk after being chased by another dog. Despite Alan's best efforts to find her throughout the day, he was forced to return home without her. The family left scented toys and food but still couldn't locate Mitzi. Alan was unable to sleep due to his fear that Mitzi might die in the cold weather, describing the experience as "hellish."
"I broke down crying to anyone I spoke to about Mitzi," the heartbroken man said. "I was missing her so much."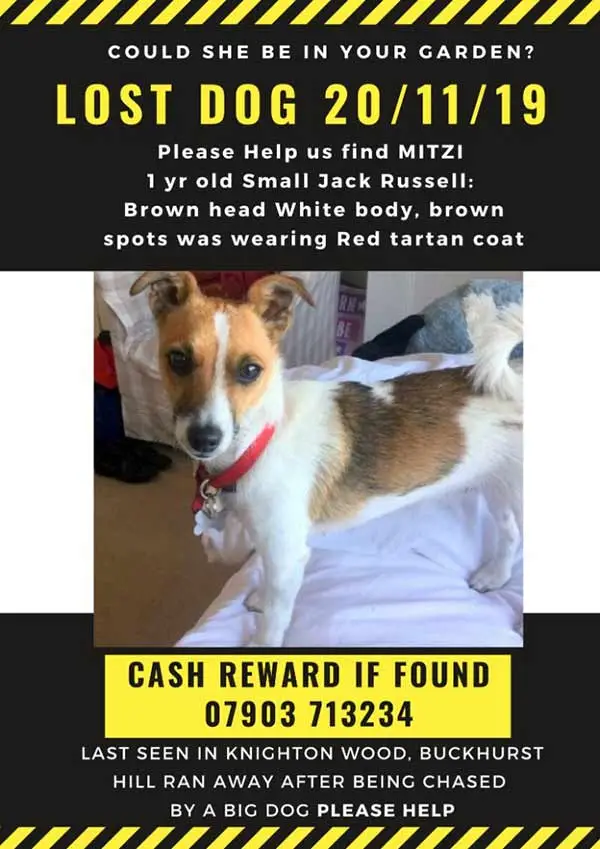 Alan came back to the area the next morning with a group of friends, determined to search the woods for any trace of Mitzi. Despite their thorough efforts, they still couldn't find the missing Jack Russell after ten hours. Faced with this outcome, Alan distributed missing dog flyers that his wife had created to the neighboring homes in an attempt to gather information.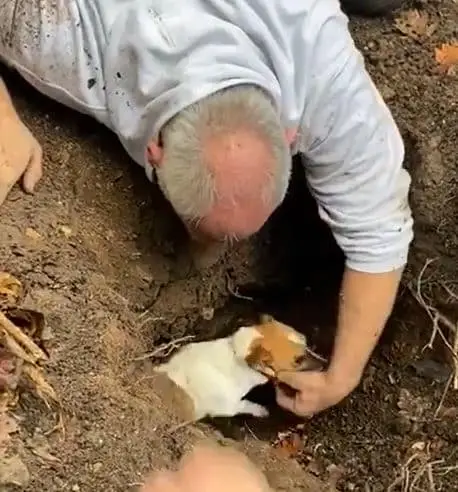 Despite another night of worry and fear, Alan was reluctantly starting to accept the possibility of never finding Mitzi. That was until he received a phone call from a fellow dog walker whose house bordered the woods. The woman reported that her dog had been sniffing around a foxhole. Alan immediately dropped everything and rushed to the site to investigate.
He used one of Mitzi's favorite toys to squeak near the entrance of the hole and heard a faint whimper. Without a shovel, he was lent one by the woman who had called him, and he began digging. With determination, Alan managed to pull Mitzi out of the hole by her collar. The emotional moment was captured on camera and quickly shared on Facebook.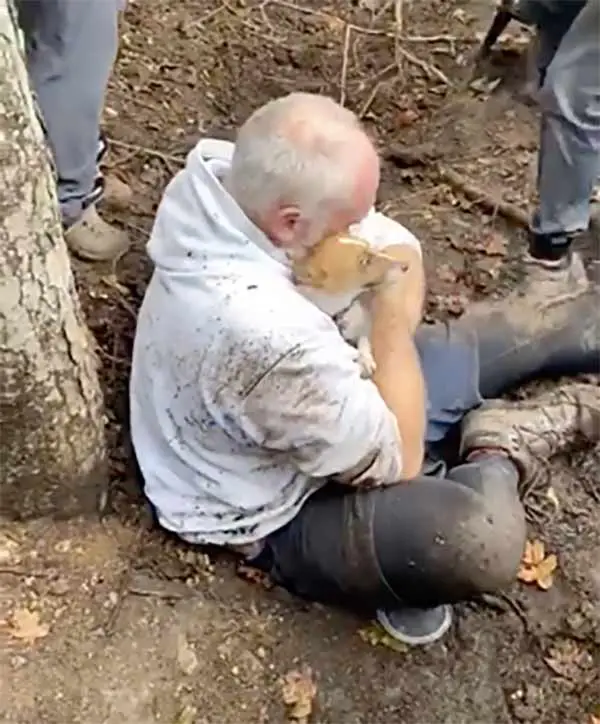 "I just broke down, I was overwhelmed with joy and disbelief, I had started to lose hope," Alan said. "It was like a Christmas miracle, all the time it felt like a nightmare I couldn't wake up from."
Here's the emotional reunion!
After rescuing Mitzi, Alan broke down in tears and cried for 15 minutes before taking her to the vet for a check-up. Fortunately, Mitzi was unharmed and only needed to have a few ticks removed.
To ensure Mitzi's safety, Alan plans to purchase a GPS collar for her to track her location during walks. He expressed his gratitude and overwhelming emotions towards those who helped him find Mitzi, saying that the thought of not having her around for Christmas was unbearable.