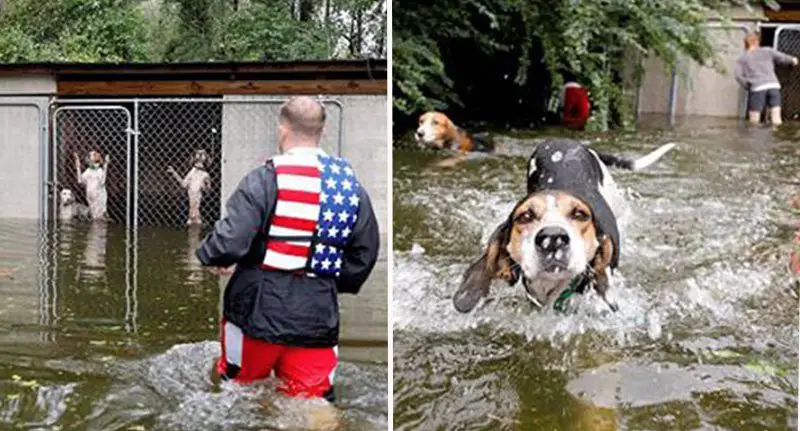 Heroic volunteers rescued six dogs which had been abandoned in a locked cage in North Carolina, during Hurricane Florence.
The dogs nearly drowned in rising surge waters before rescuers got to them. They were discovered yapping, remaining on their rear legs up against the front of the pen, frantic to get out.
The creatures were found at a property in Leland, North Carolina, where the proprietors had relinquished the house and the creatures keeping in mind the end goal to escape Hurricane Florence.
Journalist Marcus DiPaola posted to Twitter:
Rescued six dogs in Leland, NC, after the owner LEFT THEM locked in an outdoor cage that filled with flood water that was rapidly rising. [sic]

We got them out, but by the time we left, the water was so high that they would have drowned. BRING YOUR PETS WITH YOU! [sic]

 
The videos sees the dogs whimper as they see a volunteer rescuer Ryan Nichols of Longview, Texas wade in the knee-deep water towards them to come to their aid.
Seconds after Nichols unlocks the chain link fence closing them into the cage, the dogs swim out, whimpering and howling.
The dogs then scamper into a nearby wooded area followed by the rescue volunteers.
North Carolina saw flood waters reach four feet in height on Sunday and it's steadily rising.
Flooding near the Yadkin river in Jonesville is forecast to crest at 26.6 feet, according to accuweather.com.
So far 12 people have died in North Carolina as a result of the hurricane.