This is the heartwarming moment a nice man steps in to help a hopeless baby moose to reunite with its mom. The tiny animal got stuck over a guardrail in Anchorage, Alaska, when a Good Samaritan jumped in and saved the day!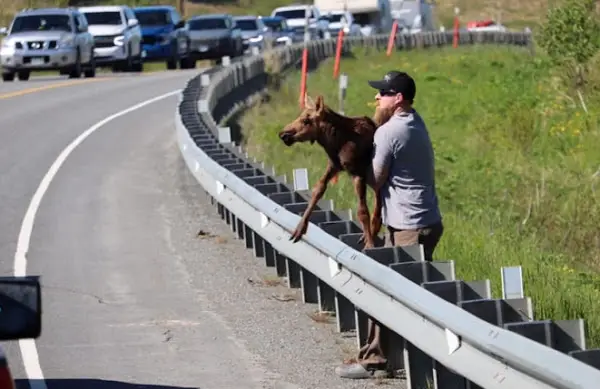 Earlier this week, Joe Tate was getting back home from a fishing trip in Alaska when a traffic jam stopped him on the highway. But only after a few minutes, the man realized the reason behind it. A moose mom and her little baby wanted to cross a highway, but the guardrail proved to be an impossible challenge for the tiny moose. Even the mother managed to made it the other side, her baby got stuck as the guardrail was way to tall for it.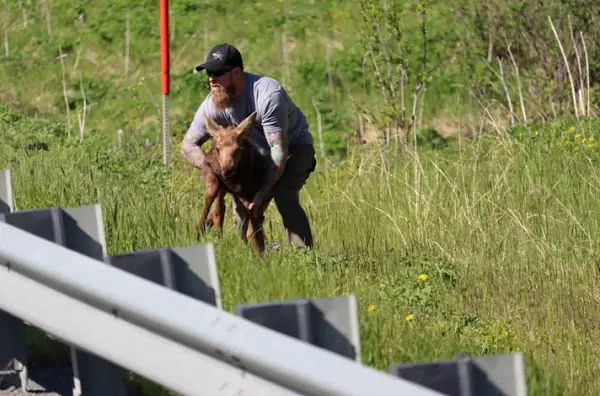 After nearly 30 minutes of waiting without any changes, Joe decided to step in and help the little moose. So he went out of his car, jumped over the guardrail and grabbed the confused baby moose into his arms and help it to reunite with its desperate mom which was impatiently waiting the other side of the highway.
It was tired.It was very very young, maybe a week and a half old," Joe shared with the KTUU. "I mean in the time that could have took, something else could have happened. Nowhere near expertise, but I had some knowledge of what to do and what not to do, and handled it the best it could be done."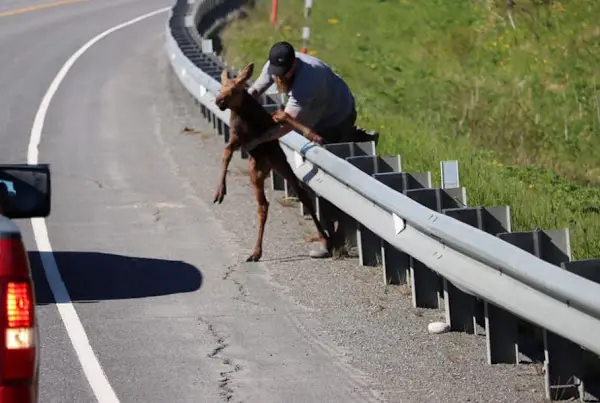 Although this time no one was harmed, wildlife officials warm that encounters with wild animals could be extremely dangerous, for both the animals or the people willing to help them. However, Joe who worked in the army for over 15 years, said that it would had been too much for the tiny moose if it wasn't him to save it. And the wildlife officials confirmed it. "It worked out this time, but we always encourage people to call the professionals," Alaska Fish and Game biologist Dave Battle told KTUU.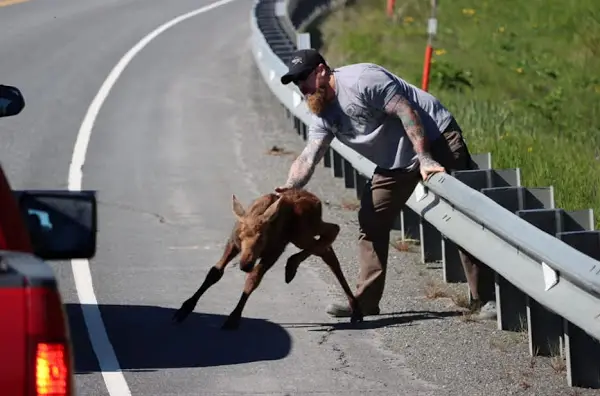 The heartwarming rescue has been capture on camera by one of the drivers. Andrea Bock witnessed the lovely sight and shortly after she shared a few snaps she capture, on Facebook. He post immediately went viral with thousands of people showing their gratitude to this true hero!
h.t: Andrea Bock