Animal Kingdom has offered some very odd friendship, but this one may be the strangest(and maybe the sweetest). A lion cub and a chimpanzee are the best of friends and they win everyone's heart with their special bond.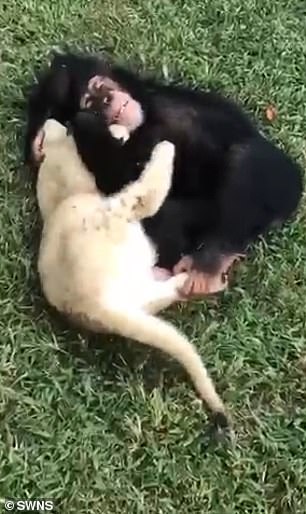 The two unlikely friends have been both born at the Zoological Wildlife Foundation in Miami, Florida and they fell in love with each other ever since they met. Although Limbani the chimp is already 3-year-old and his best buddy Binta is only 6-month-old, that doesn't stop them from playing and wrestling together every time they get the opportunity.
A recent footage of the two rolling over in the grass went straight to the heart of the viewers. They're cuddling and pushing each other just like two little kids. If watching them spending time together, it's impossible not to instantly love them.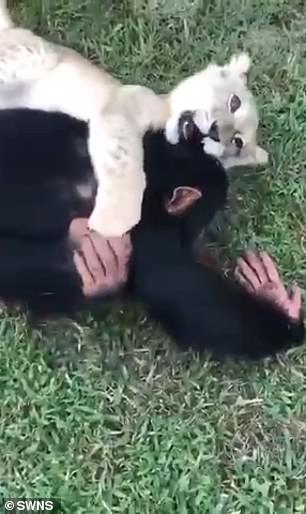 "Our goal is to educate the public about the danger these animals face in the wild and what can be done to help protect them," said Matthew Dillon, Communications Director at the Zoological Wildlife Foundation. "Binta has known Limbani since birth and clearly they've adapted a play style that suits them both."
Even if Binta's teeth are already pretty sharp, despite his age, and that could hurt Limbani, Dillon said playtime is actually helping the lion cub to develop a social life. Limbani on the other hand is famous for being a very friendly spirit, and also a very clever chimp. His hobbies include some activities that may sounds pretty challenging, even for a chimpanzee, such as painting or answering phone.
Watch Binta and Limbani playing together, bellow:
h.t: MailOnline