An amateur photographer from Montana has recently became an internet sensation after he managed to catch on camera a very unique encounter between a grizzly bear and a wolf in Yellowstone National Park.
When Seth Royal Kroft heard a massive elk was taken down by a grizzly bear, he saw it as the perfect opportunity to take some amazing snaps with his camera. Shortly after midnight, he got into his car and after a four hours drive, Seth was there on riverbank waiting for some action. And he got plenty of it!
The sun was starting to shine and the deep fog was rising from the water when the Montana-based photographer spotted the massive bear trying to hide its pray in the Yellowstone riverbank. But the scene became even more dramatic when a grey wolf made its appearance. It was the first time when Seth encounter a wolf in the wild.
"It was very exciting," he told Bored Panda. "I have encountered black bears while camping a number of times over the years, but they are relatively harmless in most situations. I've only come across grizzly bears a few times and only in Yellowstone park. All that to say I will still generally carry bear spray on my person when hiking in potential bear country."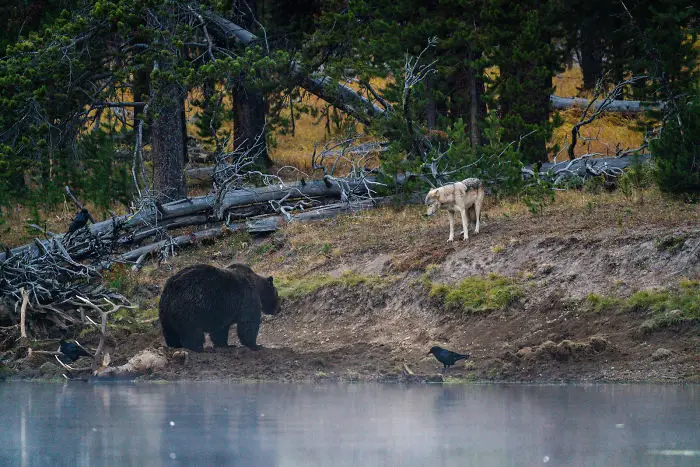 Despite wolves are natural predators and very mischievous animals, the grizzly looked incredibly calm when the intruder approached. He didn't had the slightest concern.
"As large as it was, the grizzly knew a single wolf wasn't any kind of threat," the photographer explained. "The wolf seemed to have a mischievous, playful demeanour. As if it was a game. It would slowly get as close as it could to [the elk], achieving a distance of mere inches from it before the bear would stir slightly and sent the wolf quickly retreating."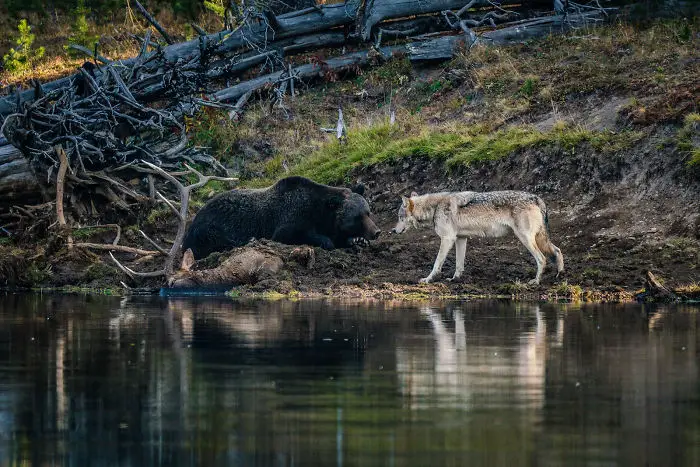 The wolf tried its luck for a few times, but its attempts were one by one unsuccessfully, so in the end it got lost into the woods. Empty-handed this time!
Credits BoredPanda | Featured Image credits Seth Royal Kroft