The Christmas season is in full swing, with the tree lit and decorations up. However, the true spirit of the holiday is best represented through the display of a Nativity scene. This depiction of Jesus' birth in a manger, surrounded by animals and wise men, has become a staple of the holiday season, and can be seen in various forms, such as light-up figures on lawns or children reenacting the scene at mass.
Jo Kingston, the owner of a dog walking and grooming business called Wags to Riches in Leicestershire, England, became internet famous in 2017 for a humorous photo featuring an imaginative Nativity scene. The scene, which featured Kingston's dogs in the roles of the traditional figures, was considered by many to be the most adorable representation of the holiday event.
In order to create the costumes for the dogs, towels were used to give them the appearance of traditional Nativity scene robes. One particularly adorable moment was when a small puppy, playing the role of Baby Jesus, was placed in the manger. The photo of the dogs in their costumes became very popular on the internet and has been shared extensively on social media, with over a thousand retweets.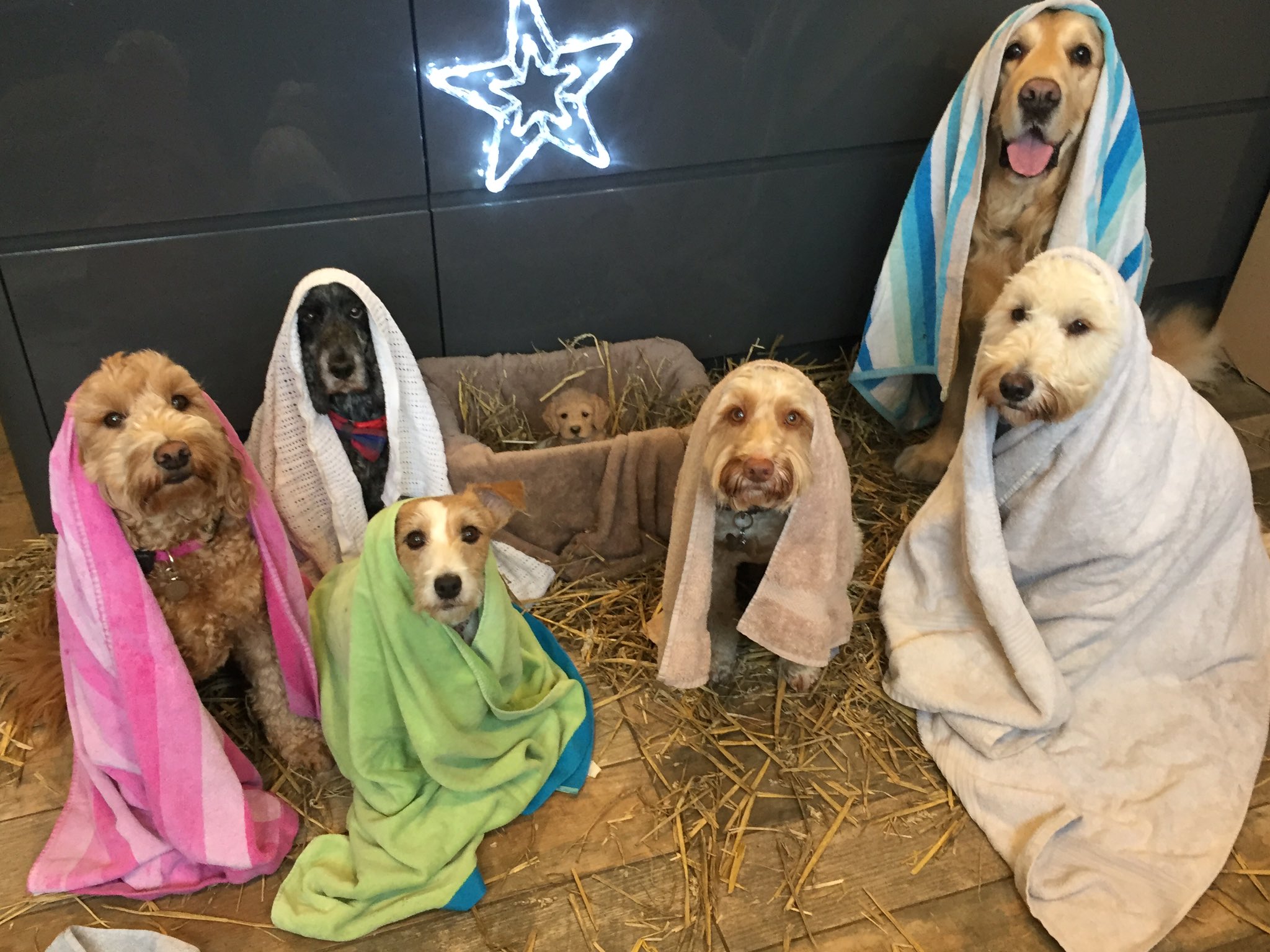 "I woke up and somebody tagged me in this photo saying, 'Jo, you've gone viral,'" Jo told the BBC. "I've had so many people messaging me. I didn't expect this at all."
Nativity play… scene 1…

2000 years ago in Judea. (Now called Israel) something very special happened.
There was a young women called Mary and she had a visit from an Angel called Gabriel……(make sure your sound is up) x pic.twitter.com/QKk9VVG1Gh

— Wags to Riches Pet Services (@to_wags) December 2, 2018
As anyone who has ever tried to get young children to pose for a Nativity scene can attest, it can be a challenge. However, it seems that the dogs in this instance were well-behaved and able to maintain their positions as long as they were given treats as a reward. This suggests that they were excellent actors.
"They were all happy to sit for the photo," the owners shared with The Dodo. "It's amazing what dogs will do for a biscuit."
People appreciate it so much it actually became a Christmas tradition.
Dress rehearsal for this years nativity play.. 😂 pic.twitter.com/P6DidaQQHM

— Wags to Riches Pet Services (@to_wags) November 26, 2018
Happy new year to you all from Wags to Riches HQ! pic.twitter.com/PvBWBuVCIt

— Wags to Riches Pet Services (@to_wags) January 1, 2018