There's a very special connection between a human and a dog and that's something Betsy Redfern is deeply aware of. She shares a very special bond with Cupid – her cute tiny chihuahua. Betsy and her furry companion are the best friends for over 12 years. Therefore,  when it was time for Betsy to go to college there was one thing she couldn't leave behind. And that's her beloved dog.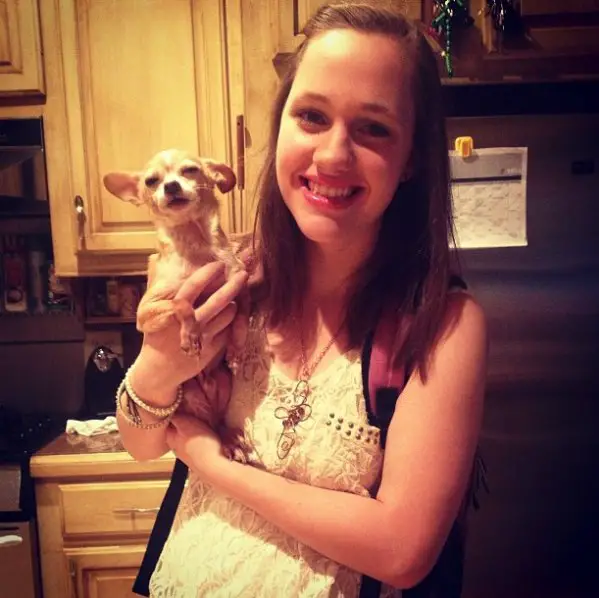 However, there would have been on little problem. Since Betsy was supposed to be at classes, she was afraid her senior doggie could get bored due to lack of activities. So in order to offer her best friend all the comfort needed, the young woman came out with a genius idea. She thought it will be nice to turn the closet into a cozy room for Cupid. And the result is mind blowing at least.
There's a lovely little four-post bed with a floral comforter inside Cupid's special room. Betsy's mom designed the bed and sewed the comforter, along with a matching curtain that's hung above the bed. "The bed was designed by my mom and she sewed everything herself," Betsy told The Dodo.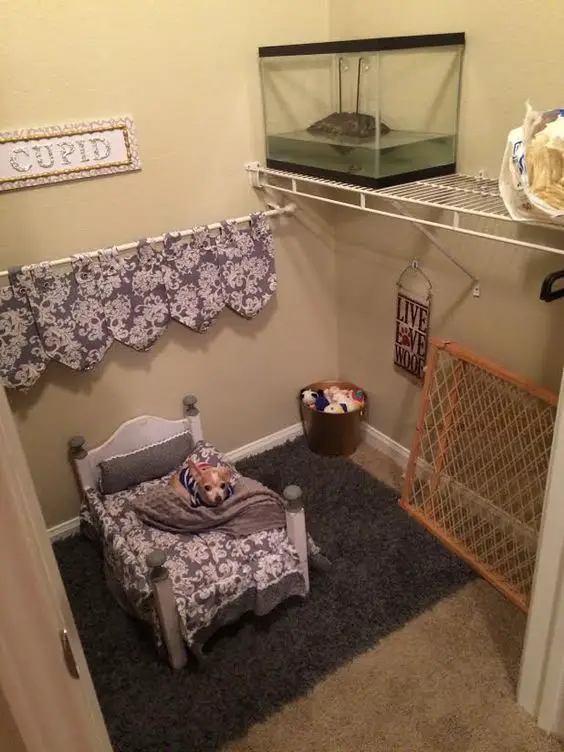 So, the dog's special room isn't just a sweet place. It's also a very comfortable place for him to rest. More than that,  for everything to be perfect, Cupid's mom took care of every detail. Even the pup's clothes are hung up. Now that's what to call a really spoiled doggie.  "Cupid's room has been so great because I am able to put a baby gate up and keep him in there when I go to class so I know he is safe and cozy," Betsy told Pop Sugar.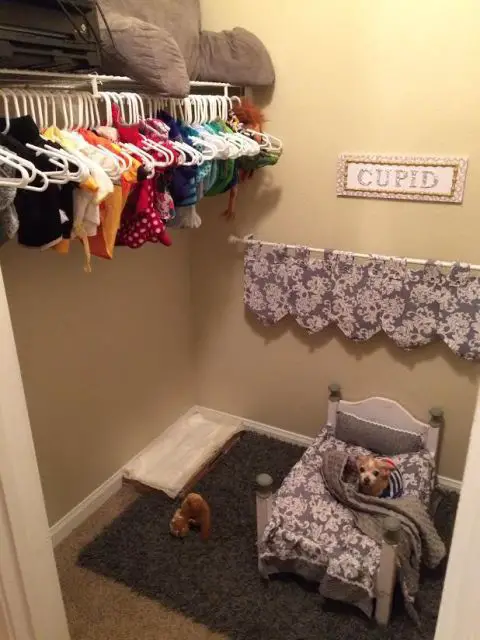 When Christmas time came,  a nice decorated Christmas tree could not had been missed from such a lovely place. So Betsy decided to put a tiny one in Cupid's bedroom, too. "I was just decorating my apartment for Christmas, so I figured a tree would be a nice addition," she said. "I like to spoil him." The cute little dog absolutely loves his bedroom. And more than that he feel safe and comfortable while his mom is at class!