David Attenborough's latest documentary has officially aired on Netflix just a few days ago and its dramatic scenes have already left everyone in tears. Unlikely Sir David's previous films, A Life On Our Planet offers a frank view of our planet's drastic degradation. Just like a sleepy giant who's living its last days.
The documentary frankly illustrates the planet's relentless decline due to the climate crisis, deforestation and pollution. "The natural world is failing," the 94-year-old legendary broadcaster narrates. "The evidence is all around. It's happening in my lifetime. I've seen it with my own eyes."
David Attenborough: A Life On Our Planet is now streaming. pic.twitter.com/3nN6N23WQt

— Netflix UK & Ireland (@NetflixUK) October 4, 2020
The film's heartbreaking scenes left its viewers in agony with so many questioning their own role in this world. One of the most devastating sights was the one that showed how the poor orangutans are loosing their homes due to deforestation. In it a powerless orangutan can be seen how it desperately tries to find a place to settle.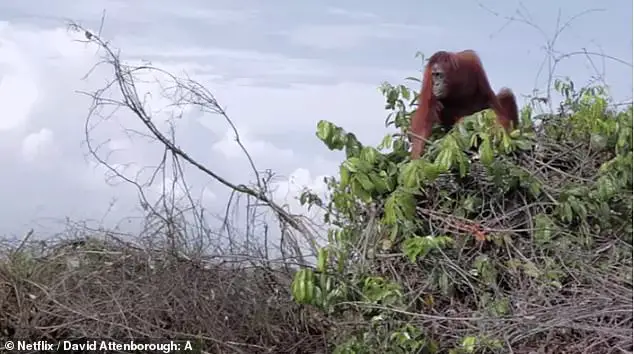 "Many of the millions of species in the forests exist in small numbers," Sir David narrates the scene. "Every one has a critical role to play. Orangutan mothers have to spend 10 years with their young, teaching them which fruits are worth eating. Without this training, they would not complete their role in dispersing seeds. The future generations of many tree species would be at risk."
Just seen David Attenborough's #ALifeOnOurPlanet and cried for 1hr of the 1.5hr documentary.

It's powerful. It's moving. It's a love song to our planet and a call for us to do more to protect the planet we share. It's on @NetflixUK from Oct 4 and it's an absolute must see.

— Lauren Clarke (@rensyclarke) September 28, 2020
A Life On Our Planet left everyone in distraught and people took over the internet to reveal how watching it has affected them. "I've never wanted to change my ways as much as I do now after watching David Attenborough's a life on our planet," one person wrote.
If you haven't watched David Attenborough: A Life on Our Planet on Netflix please do. Watching it at 4am tearing up in my room. Already know some changes I'm going to make from now on.

— Nici 💜 (@NicsAndNacs) October 4, 2020
"Just watched David Attenborough's film, A Life on Our Planet. Confronted with the biggest behaviour change project we'll ever see in our history: rewilding the planet, to save both it, and ourselves," wrote another viewer.
I've never wanted to change my ways as much as I do now after watching David Attenborough's a life on our planet 😢

— Sim🌼 (@simone_chisman) October 4, 2020
"This unique documentary tells the story of life on our planet by the man who has seen more of the natural world than any other," the film's official synopsis reads. "In more than 90 years, Attenborough has visited every continent on the globe, exploring the wild places of our planet and documenting the living world in all its variety and wonder."
Watch the documentary's official trailer, here: