Sometimes, stepping on a frozen lake might be extremely dangerous. Especially when it comes to a 1,500 pound animals. Two 15-year-old Clydesdale horses escaped from their field in Pennsylvania and they end up in a freezing lake. Certainly they were struggling to get out as they look really exhausted when the emergency crews were called.
Gunther and Wilhelm had escaped the safe surroundings of Quiet Valley Living Historical Farm near Stroudsburg, Pennsylvania. Unfortunately they fell through the ice into treacherously cold water. So Ladder Fire Company was called out.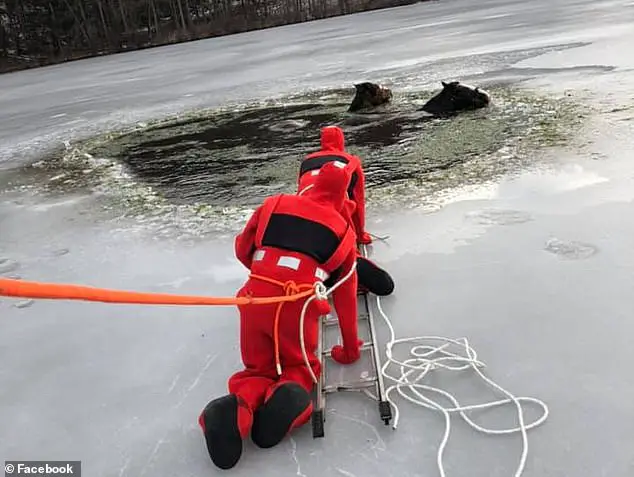 "I saw two horse heads sticking up out of the ice," Fire Chief Leon Clapper told WBRE-TV. "That was the only thing you saw."
But their task wasn't easy at all. Even for professional rescuers is nearly impossible to save these big horses from the freezing waters. In the end, the heroes rescuers managed to do their job, using chain saws to cut a path through the ice. Then, they tied rescue ropes around the horses, leading them back to shore.
Video: 2 Clydesdale horses rescued from frozen lake in Pennsylvania https://t.co/PDcoXJENaz #KMOV pic.twitter.com/CV9r2neZG2

— KMOV (@KMOV) February 18, 2019
"Never in 54 years have we ever had an animal or a human lost in the lake," a witness said. Thankfully the horses were saved without any injury. You can watch the dramatic rescue bellow!
h/t: newsner.com